Mr. O. ARIVAZHAGAN, B.E (Honors), PMP, PMI-SP, PMI-RMP, MBB, CFM (HFI, USA)

Mr. O. Arivazhagan , a PMP , PMI-SP, PMI-RMP, Master Black Belt(MBB) certified, and a Honors Graduate in Civil Engg from University of Madras, has in total 25 years of professional experience in Domestic & International EPC/Turnkey Projects and Software projects. He has Managed, Estimated, Designed, Planned, Tendered, Coordinated, Executed projects in various capacities and has handled projects in Industrial, Power sector/ Software fields worth more than US$ 100 millions in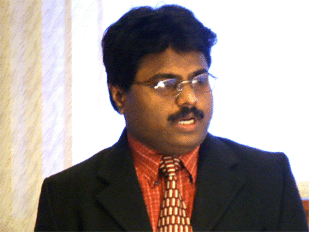 countries including India, Saudi Arabia and UAE. He has developed / managed software projects for the automation of Industrial structures, Foundation design, Preprocessors for Tower Analysis, CAD fabrication drawings in Auto LISP/VBA/ BASIC. He has managed and implemented large ERP projects for various industries. He is an user of MS Project and Primavera. He was the General Manager of a large contracting company in the middle-east. He is an active member of PMI®, USA. He was on the Board of Directors of PMI's DPC-SIG for 2 terms in the capacity of Vice Chair / Director - Marketing & PR from 2001 to 2004. Mr. Arivazhagan is one of Founding Directors of PMI Chennai Chapter. He is also one the leaders in the PMI's DPC-SIG Leaders' group.He is a Vice Chair of ASQ – LMC Chennai.

He is an active socialist and encourages rural development through his own contribution as part Community Transformation Project. His social activities can be seen at http://www.iipmchennai.com/ss.html.

He enjoys Teaching / Training / Consulting and his areas of interests / specializations are Construction Project Management, Software Project Management & Event / Movie Projects Management. He is certified film producer and director from Hollywood Film Institute, Los Angles, USA.

He was recently interviewed by 'JAYA TV', 'KALAIGNAR TV' & 'RAJ TV' on Project Management & its need in India. His interviews have also been published in The Hindu- 'Business Line' Newspaper, MMA's 'Business Manadate', ICFAI University's 'Projects & Profits' Magazine and 'Thozhil Kanavugal' Magazine on various topics of Project Management and Six Sigma.

He is at present the CEO of International Institute of Project Management (IIPM) and is a well-known Speaker, Author, Consultant and Trainer in Project Management, PM Maturity Assessment, PM Software Selection, PM Software Training, PM Consulting, Tender Management, Training in PM Knowledge areas Project Risk Assessment.

He can be reached at + 91 98840 15136/ + 91 44 5207 1124 / 2435 9078 / 5264 1401 or through e-mail at askari@iipmchennai.com.

------- xxxxxx---------