Click here to see Feedback & Pictures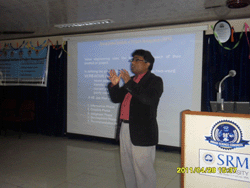 "Mr. Ari delivers lecture on Lean Six Sigma, Value Engineering & Project Management for SRM University Students"
Mr. O. Arivazhagan, B.E (Honors), PMP, PMI-SP, PMI-RMP, MBB, CFM (HFI, USA) CEO, IIPM, was invited to deliver a lecture on "How to increase profit without increasing sales using Lean Six Sigma, Value Engineering & Project Management" by the IT Engineering, CSC & MBA dept. of SRM University, a leading Educational Institution in Chennai on 28th April, 2011.

The lecture commenced with the welcome address given by a First Year M. Tech student. Prof. S Rajendran (HOD- IT department), Dr. Subburaj, Professor, IT department and other faculty members from IT & CSC department also attended the lecture along with the UG & PG students of IT & CSC department.

In his lecture, Mr. Ari addressed about the concepts of Lean, Six Sigma, Value Engineering & Project Management to the participants. He clearly explained how the traditional definition of quality differs from the Six Sigma definition & how lean differs from Six Sigma. He also explained the concepts of Throughput yield, JIT, Function Cost Analysis, using simple examples like laser pointer, mobile phones, etc. He also brought to light the fact that Value Engineering (VE) can leverage, accelerate, and amplify efforts to implement Lean principles and practices in an organization. In turn, Lean can enhance the effectiveness of VE efforts.

The lecture provided an overview of Lean, Six Sigma and Value Engineering to increase customer value by optimizing costs, quality and delivery. In the lecture Mr. Ari, also spoke about the importance of Project Management concepts and the value of becoming a CAPM certified person prior to job placement. This being an international certification provided by Project Management Institute (PMI) ®, USA (PMI – CAPM® Exam), it adds value to the career profile of students even before they attending the campus interview.

The lecture was well received by the students and was followed by an enthusiastic Q&A session. Spot prizes were distributed to the students, on answering the questions asked during the Q & A session. Students interacted actively with Mr. Ari and got their doubts clarified. He suggested the students to involve actively in implementing the concepts of Lean Six Sigma, Value Engineering & Project Management which is going to drive the future world.

Finally a few students from varied sections and departments who participated in the seminar, volunteered on to the stage and expressed their feedback towards the seminar conducted and thanked Mr. Ari for the wonderful, informative and very useful lecture that he provided. At the end of the lecture Ms. Deiva Preetha, Assistant Professor (IT dept.) addressed the vote of thanks for the seminar and finally Dr. Subburaj, felicitated Mr. Ari with a memento.
Feedback
It was really a nice thing to lecture all the students about Lean Six Sigma and CAPM certification.
Ummadi Dastagiri Reddy, M.Tech (CSE)
It was more useful to know few things about how we should manage any process to win in the race world wide.
V. Nithya, UG
This seminar was really useful for us. And now we are very clear about the importance of Six Sigma and also IIPM.
M. Padmavathi, PG
Six Sigma seminar was really excellent & we are very happy to know about 6 Sigma on the statistical parameters.
Vivekanand Singh, UG
Your seminar was good and valuable. We were able to gather more information, and now we have some idea related to, Six Sigma etc. Thank you.
R. Karthick, PG
Presentation was so nice, that we feel like attending more of this. If possible means, please do arrange more such useful seminars.
M. Arsath Ayub, M.Tech (IT)
Your seminar is good and valuable. I am eager to know course which is selected above.
K.S. Mohan Kumar, PG
Today the program was nice. You have told us all the information very clearly and in a very easily understandable manner.
Deepesh Garg, M.Tech (Computer Science and Engg)
Feel good to take part of this session. And need more details about the Project Management and Increase Quality assurance from the products.
R. Balachander, M.Tech (IT)
Very informative seminar and was a guidance session regarding our placements too.
Stella. P, PG, M.Tech (IT)
Your seminar gave lots of information about reduction of defects. Really nice.
R. Vignesh, PG
The concepts explained were in the way of easy understanding.
Chandar.G, PG
Very useful and interesting. I gathered loads of useful points from the lecture.
M. Dharmaraj, PG
Good. Keep it up. Please do conduct more such seminars.
K.V.B. Nagarjuna Kumar, PG
Seminar was so nice. It was really very interesting.
K.M.V. Ramkumar, PG
Way of teaching was very good.
Nanjundamoorthy. B, M.Tech (IT)
Thank you for excellent statistical data.
Gorakh Nath Gupta, UG

Pictures Gallery