Click here to see Pictures

Mr. O. Arivazhagan, B.E (Honors), PMP, PMI-SP, PMI-RMP, MBB, CFM (HFI, USA) CEO, IIPM,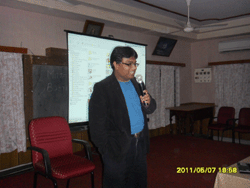 was invited as a Chief Guest to deliver a lecture on "How to increase profit without increasing sales using Lean Six Sigma & Value Engineering" by PMI® - Chennai Chapter, on 7th May, 2011.

The lecture commenced with the welcome address given by
Mr. P. Ramasubramaniam PMP, President of PMI, Chennai Chapter. Nearly 100 chapter members attended the lecture along with Project Management professionals from various industries.

In his lecture, Mr. Ari addressed about the concepts of Lean, Six Sigma, & Value Engineering to the participants. He clearly explained how these concepts could be helpful to a Project Manager, 5 – 10 years down the line. He also explained how the traditional definition of quality differs from the six sigma definition & how lean differs from six sigma. He also explained the concepts of Throughput yield, JIT, Function Cost Analysis, using simple examples like laser pointer, mobile phones, etc. He also brought to light the fact that Value Engineering (VE) can leverage, accelerate, and amplify efforts to implement Lean principles and practices in an organization. In turn, Lean can enhance the effectiveness of VE efforts.

The lecture provided an overview of Lean, Six Sigma and Value Engineering to increase customer value by optimizing costs, quality and delivery. The lecture was well received by the all and was followed by an enthusiastic Q&A session. Participants interacted actively with Mr. Ari and got their doubts clarified. Finally he suggested the participants to involve actively in implementing the concepts of Lean Six Sigma & Value Engineering which is going to drive the future world. The session received raving reviews and feedbacks from all the participants. At the end of the lecture Mr. Karthik Ramamurthy thanked Mr. Ari and felicitated him with a memento.