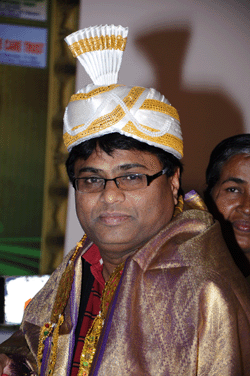 Our CEO Mr. O. Arivazhagan, B.E (Honors), PMP, PMI-SP, PMI-RMP, MBB, CFM (HFI,USA) CEO, IIPM, was awarded MGR award on 17th Jan 2012, at Hotel Kanchi, Egmore, Chennai.
To commemorate the celebration of 95th birthday of Ex. TamilNadu Chief Minister, Mr. M.G. Ramachandran, MGR awards were given for excellence in various fields. Mr. A.R. Ramesh delivered welcome address. Kalaimamani Thiru.P.B.Srinivas, a famous playback singer presided over the function.

Mr. Ari was awarded prestigious MGR award for his various social contributions to the socially underdeveloped people for their well-being and school related activities. In his address, he spoke about the importance of Corporate Social Responsibility from healthy corporate in order to realize the dream of "inclusive" society. He quoted a famous MGR song

"Naan Ean piranthen,
Naatukku nalamennna purinthen"
.........

He emphasized every citizen of India, rich or poor, educated or uneducated, girl or boy, to ask themselves the same question daily and do something to the local society to help the country.

In his special address, Mr.Ari sent out a social message to the public that related to the importance of saving water. He said water is the one of the most precious gifts given by the mother nature and many do not seem to realize how much of water they waste everyday. He requested the public to save at least 5 litres of water daily by just making one change in their wash-basin manners. He requested them not to keep the tap open (pouring water wastly) when unnecessary while washing face and brushing teeth. These kind of simple measures adopted by everyone at his/her home would lead to saving millions of litres of water daily leading to reducing the water shortage problems in the state/country. There was great applause from the audience for his simple suggestion. The program came to an end with vote of thanks.

The event was a great infotainment for all wherein they gathered worthwhile information along with entertainment.