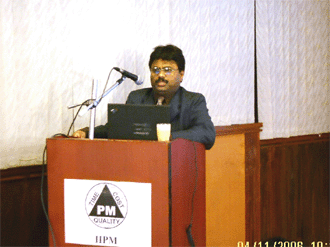 IIPM celebrated International Project Management Day on 4th Nov -06 at Hotel Quality Inn Sabari to commemorate the practicing project management professionals around the world and to create awareness about growing need of project management professionals in IT/Construction/Entertainment industry.

The Chief Guest of the event was Dr. Shalini, Ph.D, a leading Psychiatrist. Initially Mr.O.Arivazhagan, PMP, CEO, IIPM welcomed the gathering. In his inaugural address Mr.Arivazhagan emphasized the importance of the role women play in project management. He pointed out two special skills that women display compared to men in managing projects. The two qualities that he observed were consistency in performance and commitment to the job under taken. Later, surprisingly this was reiterated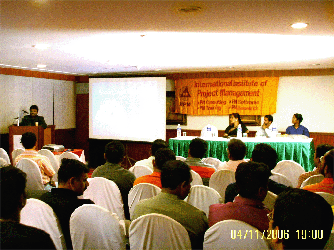 by Dr.Shalini, in her address with the scientific facts. Dr.Shalini, in her address excellently brought-out the advantages of employing women in project management with the help of the structure of the male and female brains. Among the advantages she cited in favor women were better organizational skills, consistent performance, holistic thinking, to name a few. She also touched upon the disadvantages the women posses as managers. According to Dr.Shalini, women lack in penetrative thinking, single minded devotion and in risk taking, to name a few. However, it was interesting to note that the law of success demands 35% hard skills and 65% soft skills. The later being the forte of women, women seem to possess natural managerial skills than men through their nature endowed soft skills.

Mr.Sridharan, PMP, Analyst, World Bank and Mrs. Aarathi Parthasarathi, Asst. Vice President, ABN Amro Bank also spoke on the topic. Later, Mr.Arivazhagan had tête-à-tête with Dr. Shalini where in many myths about women in project management was broken. The participants had a nice time in learning the managerial talent and the potential women have in work place. Prizes were distributed to excellent contributors to project management community. Finally, Mr. Shiva, Admin Executive, IIPM thanked the organizers, participants for a wonderful evening.

---
Dr. Shalini, Leading Psychiatrist Speaks on "Women in Project Management" on International Project Management Day 4th Nov'06 Saturday.
IIPM takes pride in celebrating the International Project Management Day, which actually is observed on 2nd November of every year, to appreciate the increase in demand of project management professionals all over the world and to highlight the importance of Project Management culture in almost all industries to achieve success, turnaround loss making companies to profit making and to convert the Senior Managements Vision to Reality (V2R).

World wide recognition of many project managers and project teams in every industry including non-profit organizations and health-care who contribute their time, power, inventiveness, novelty, and innumerable hours to deliver products, services, facilities, and crisis and disaster recovery services in every city and the society around the world.

It is expected that this kind of celebrations will increase the realization of the value of project management within the huge business, government and social communities and encourage project management as the vehicle for transforming the business strategies into reality. This includes, but is not limited to: construction, information technology, entertainment, government, aeronautics, health care, environmental science, societal, disaster recovery, community development, and feature-of-life projects and their associated sub vendors / associations.

All PMPs, CAPMs, PMs, Project Team Members, Project Associates, Consultants, Practicing Professionals, Teachers, Educationists, Entrepreneurs, Business Owners, Finance Professionals, chartered Accountants, Quality Professionals etc are invited and expected to make this event a grand success.

ALL PARTICIPANTS WILL BE AWARDED 4 PDUs


Invitation for International Project Management Day Celebration

---
Agenda

International Project Management Day
Saturday, 4th November 2006 Venue: Hotel Quality Inn Sabari, T.Nagar.
CHIEF GUEST: Dr. Shalini, Ph.D., Psychiatrist TOPIC: WOMEN IN PROJECT MANAGEMENT
06.00 - 06.15 pm - Registration & Welcome Drink

06.15 – 06.45 pm - Welcome Address by Mr. O. Arivazhagan, PMP, CEO, IIPM

06.45 – 07.00 pm - Mr. Sridharan, PMP, Analyst, The World Bank

07.00 – 07.15 pm - Ms. Aarathi Parthasarathi, Asst. Vice-President, ABN-AMRO Bank

07.15 – 07.45 pm - Chief Guest & Special Keynote address: Dr. Shalini, Ph.D., Psychiatrist on


"Women in Project Management"



07.45 – 08.45 pm - Tête-à-tête with Dr. Shalini, Ph.D., Psychiatrist

08.45 – 08.55 pm - Prize / Awards for Significant Contributors of Project Management

08.55 – 09.00 pm - Vote of Thanks

09.00 pm - BUFFET DINNER


There will be invited speakers from leading Institutions followed by a tête-à-tête with Dr. Shalini on the unique skills women posses vis-à-vis men in managing projects.

You can also find answers to many long-pending questions like
Who is a better manager: Men or Women?
Why many women do not take up project management profession?
Is there really any such glass ceiling for women in climbing the corporate ladder?
Has God endowed women with some natural talents that men have
been deprived of? And many more …...
PDUs Awarded: 4 PDUs
Entry Fee: Rs. 450 /-
for IIPM patrons / PMI® Chennai Chapter members
Rs. 750 /- for Others
All Presenters / Panelists/ Awardees entry will be FREE.

Group discounts of 10 – 15% on the above fee for group size of 3 -5 persons.
The fee can be paid by cash or cheque or at the venue. You can register by phone or Online or Just walk-in for spot registration. Register Now
Venue: Hotel Quality Inn Sabari,
29, Thirumalai Pillai Road,
T. Nagar, Chennai-17.
Please inform Ms. Suba or Mr. Shiva for seat reservation as only limited seats are available.

RSVP: Ms. Suba - 044- 42071124, 98417 15490 / Mr. Siva - 98844 33487
E-mail: marketing@iipmchennai.com

All are Welcome.