PMO Conference
& Professional Development Day
International Institute of Project Management (IIPM), Chennai hosted the first ever conference in India on the Industry's hot topic "PMO in IT Industry: The Relevance & Challenges" on 9th Dec'07 at Hotel Quality Inn Sabari, T.Nagar. It was also an occasion for conducting the "Professional Development Day" for the practicing the Project managers, Consultants, Trainers, and PM Professionals from all industries.
The conference provided an excellent opportunity to create awareness about the growing need of setting up of PMO unit in all project-based companies across the length and breadth of the Indian sub-continent.
Initially, Mr. Shiva,Admin Executive, IIPM welcomed the speakers, panelist and the attendees.
The conference formally opened with the inaugural address by Mr.O.Arivazhagan, B.E (Hons), PMP, SSBB, CEO, IIPM on the conference main theme "PMO in IT Industry: The Relevance & Challenges". In his inaugural address, Mr.Arivazhagan explained the concepts of PMO and its relevance to the IT industry by drawing parallels from construction industry. He drew the attention of all the participants by asking
10-questions to check the relevance of PMO to IT industry. It was so interesting and thought-provoking that the participants answered "yes" to almost all the questions in unison with great enthusiasm thereby acknowledging the need and relevance of PMO in IT industry.
Mr. Ari kept the audience's interest live and kept open answers to the second half of the conference theme i.e "The Challenges" till the end of the conference so that the conference participants could take home the challenges that were required to be tamed by the industry professionals when they setup a PMO in their organizations. This created lots of curiosity amongst the conference attendees and prompted the forthcoming Speakers and Panelists to come out with the challenges they faced to augment Mr. Ari's list of challenges.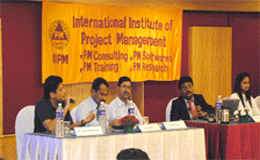 The following speakers spoke on the conference theme covering various areas/phases of setting up a PMO in IT industry.
Mr. Abiraman, BE, MBA, PMO Analyst, Polaris Software Lab Ltd,
Topic – PMO: Roles &Responsibilities

Mr. Dipanker Das, M.Tech, PMP, SSGB, Project Manager, CGN IT.
Topic – PMO: Implementation Experiences- A Case study

Mr. Tony Jacob, B.Tech, PMP, PGD (CM), Operational Consultant,
Aconex India, Chair – Professional Development, DPC-SIG, USA
Topic – PMO in Construction through Online Collaboration- A Case study

Mr M. Sakthi Vel –Dy.Manager – State Bank of India
Topic – PMO: Which Organizational Structure is best suited?

Mr. Lakshmi Narayanan, MBA, PMP, Associate Manager-Delivery, Virtusa India,
Topic – PMO: Roles &Responsibilities

Mr.Dhanesh Kunar, MBA, PMP,Project Manager,WIPRO
Topic – PMO: Which Organizational Structure is best suited?

Mr. Ramakrishnan, Former GM, CGL
Topic – PMO: Implementation experiences: A case study

After a sumptuous lunch, there was a lively and highly interactive panel discussion on the main theme of the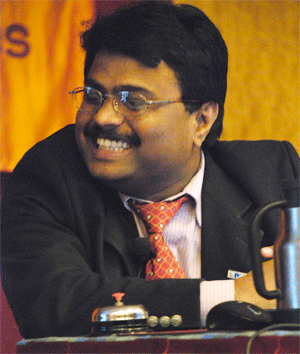 conference, "PMO in IT Industry: The Relevance & Challenges". The following SMEs, practicing professionals, and consultants took part in the panel discussion that was well moderated by Mr. Ari with his usual punching and humorous quotes from his professional career spanning 23 years of project/project management experience in various industries and countries.
Panelist 1: Mr. Ravichandran, MBA, CEO, Indus CyberTech
Panelist 2: Ms. Gayathri Balaswamy, MBA, PMP, Vice-President,
M&A Integration, ISG Nova Soft
Panelist 3: Mr. Jawahar Venkatraman, Project Manager, PMP
Panelist 4: Mr. Ajit Kumar , MCA,MS,PMP, Delivery Manager, Logica CMG
Panelist 5: Mr. Ashok Sharma , ICWA,ACS,PMP, SAP Project Manager,
SEAL InfoT
Panelist 6: Ms. V.S.Srividhya, MCA, PMP,
Senior Project Manager, INFOSYS Technologies Limited.
Panel Moderator: Mr. O.Arivazhagan, B.E (Honors), PMP, SSBB, CEO, IIPM
After a vivid and highly interactive discussion by panelists and the participants, with interesting comments from the moderator, for nearly 2-hours on various challenges being currently faced by industry professionals, Mr. Ari, the panel discussion moderator, narrated in the end the TOP 10 Challenges that any PMO team should prepare itself to address while setting up a PMO in IT industry.
IIPM awarded all those who scored above 75% in the PMP® exam in the year 2006-2007.
All the participants were distributed professional development certificate for 7 PDUs.
The conference came to an end with the vote of thanks by Mr. Sai Prasad, Cognizant Technology Solutions.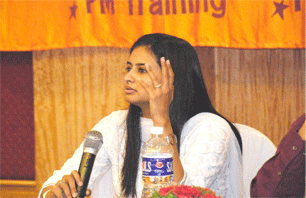 In the evening, IIPM hosted a cocktail dinner party to all IIPM alumni wherein the PM professionals networked and exchanged their views on current trends in the industry. IIPM thanked the sponsor of the cocktail dinner, International Dream Merchants (IDM) whose Digital movie trailer of the forthcoming digital film "The Perfect Knot" was screened to the amusement & enjoyment of the audience. The conference attendees were thrilled to see the trailer of the digital film which was, as informed by Mr. Ari, managed as a project in the film industry using corporate principles and many project management tools & techniques from PMI's PMBOK Guide.
Last but not the least, IIPM also displayed yet another face of responsible corporate companies by soliciting donations from the participants to encourage social responsibility from amongst the PM professionals to help the needy.
IIPM, on behalf of the PM community, extends special thanks to the following project managers who generously donated in response to IIPM's call for helping the charity institutions.
1. O.Arivazhagan, PMP (PC System)
2. Namagiri Lakshmi, PMP (PC System)
3. Padmalakshmi, PMP (Household Items, Dress Materials)
4. K.S.Prashant Kumar, PMP (Dress Materials)
5. Sreekumar (Study Materials)
PMO Conference: Photos
---
PMO Conference Additional Pictures
I can't thank you enough for organizing the PMO conference. In fact, I feel it's like I took 1-week class room training on PMO, with different perspectives and practical examples. Thanks again, Ari.
Seyed Ibrahim, PMP, Project Manager.


It was a good opportunity to meet like minded people in the industry & to learn from experts.
Thank you so much, Ari. V.S.Srividhya, PMP, Senior Project Manager, INFOSYS Technologies Ltd


I was new to PMO before this session, but I gained a lot of information about how to implement, and challenges faced in its implementation. Will attend more such sessions from IIPM
B.Sai Prasad, Senior Associate - Project, Cognizant Technology Solutions (CTS)


Overall it has been good experience knowing all the relevance & challenges of a PMO in IT industry, which is yet considered evolving in India. Being a PMO Manager dealt with all the 7 challenges presented by Mr. Ari but its relevance in Indian IT Industry was very helpful. Thank you, Ari.
R.Harish, Manager - Project Budget & planning, Alcatel - Lucent Development


The discussions were really thought provoking. The presentations were very good. The session helped understand different PMO roles, responsibilities & challenges. Vaidhyanathan, Project Manager, POLARIS Software


Good Plan & Great execution. Interesting presentations & knowledge sharing. Good mix of participation (panelist, Speakers&audience). Great Topic, which has created many more topics for discussion.
Dipanker Das,PMP, Project Manager, CGN IT Services Pvt.Ltd


The program (conference) was well organized. Ari moderated the panel discussion very well. Most presentations made a story case for PMO in IT industry. PMO is still in a state of evolving . Seminar like this will certainly help meeting of minds & shape opinions. V.Karthikeyan, Manager - Projects, RAMCO Systems


PMO concept was understood. However, care needs to ensure that the same information is not repeated. Good Topic to be discussed but needs to be implemented to reap the benefits out of it.
E.T.Anitha, Project Head, Inautix Technologies India Pvt Ltd


Good to have similar programs. It has given good understanding and helps to understand the views of fellow PMs in various industries. Thanks for organizing this program.
R.Karthikeyan, PMP, Project Lead, Inautix Technologies India Pvt Ltd


This discussion was very good. It was very informative. Overall it was very good.
Mahindar Singh, PMP, Location Manager, Godrej Global Solution Ltd


Good. Overall it was good. Sathya Narayanan, Project Manager, HCL


In fact, we planned to implement PMO within our vertical and I hope this would definitely help us in reaping the benefits in many aspects. This session is really enlightened the pros & cons of implementing PMO.
Sathiakumar Ramachandran, Assistant Manager - Projects,Cognizant Tech.Pvt.Ltd


I have refreshed on PMBOK Practices. Very Good. Participants interacted very well.
Umapathy, Chief Manager, IndusInd Information Tech Ltd


Was Informative and a few points were thought-provoking. Will try and implement at work. Overall it was a productive and good session. K.S. Prashant Kumar, PMP, Assistant Manager - Projects, Servion Global.


It is very useful and Interactive session right from the start to the end. All the speakers made the participants involve in the session. Very good program. G.Karthikeyan, Senior Lecturer, S.M.K Fomra Institute of Technology


Inputs from the speakers and panel discussion were very useful. The conference was quite good.
Srinivasan Dasarathi, Executive Director, Zunotech Infosystem Pvt Ltd

PMO Conference: Additional Photos
---
Mr. Ari at PMI Global Congress, 2007 - Atlanta, USA
Mr. Ari attended PMI Global Congress held at Hotel Hyatt Regency & Georgia World Congress Center, Atlanta, GA, USA during October 2007. The following programs were attended by him.
1. PMI Leadership Institute Meeting
2. DPC-SIG Annual Membership Meeting
3. REP Breakfast Meeting
4. DPC-SIG Stall-Marketing
Some of his visits pictures are here.
Mr. Ari Speaks at the PMI's Global Congress, Hong Kong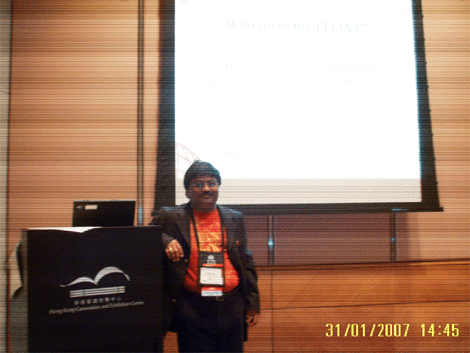 ISS03 : Who Owns the Float?
Wednesday, 31 January
13.45–15.00
1 hour, 15 minutes

Speaker: Ondiappan Arivazhagan, PMP, SSGB

Presentation Style: Lecture
Level: Intermediate
Target Audience: Project Management Professional (PMP®)
Presented In: English

This Presentation has been endorsed by the following PMI Specific Interest Groups (SIG):

- Information Technology & Telecommunications SIG
- College of Scheduling
- Risk SIG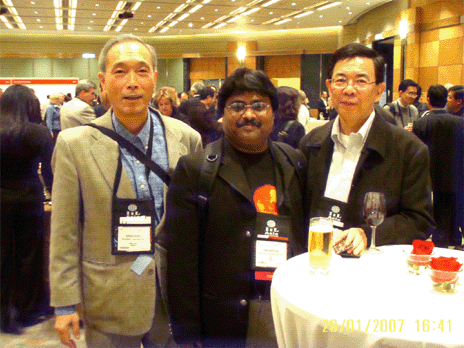 - Design, Procurement & Construction SIG
- Students of PM

Learning Objectives:
After the presentation, attendees will be able to realise the importance of float management, focus their attention on float, negotiate better terms with other stakeholders, reduce schedule slippage risks and manage the schedule targets more effectively.
Project managers are expected to handle or manage various types of contracts with owners and vendors whilst managing their projects. In the Critical Path Method of scheduling, the project's deadlines are at high risk if floats are not managed properly. As float gives some flexibility in scheduling the resources, very often the question comes, who owns the float?

This presentation is aimed at identifying the possible stakeholders to it, analysing the possible ownership claims of various stakeholders of the project and suggesting a few possible solutions.
Please note that the congress proceedings are conducted in English.

©2007 Project Management Institute, Inc. All rights reserved. Terms of Use.
For further information please click here.

PMI Global Congress @ Seattle, USA - Pictures
International Project Management Day Celebration on 4th Nov'06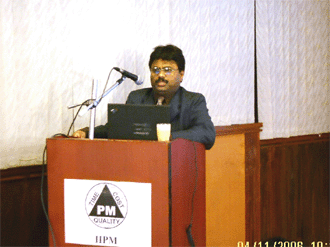 IIPM celebrated International Project Management Day on 4th Nov -06 at Hotel Quality Inn Sabari to commemorate the practicing project management professionals around the world and to create awareness about growing need of project management professionals in IT/Construction/Entertainment industry.

The Chief Guest of the event was Dr. Shalini, Ph.D, a leading Psychiatrist. Initially Mr.O.Arivazhagan, PMP, CEO, IIPM welcomed the gathering. In his inaugural address Mr.Arivazhagan emphasized the importance of the role women play in project management. He pointed out two special skills that women display compared to men in managing projects. The two qualities that he observed were consistency in performance and commitment to the job under taken. Later, surprisingly this was reiterated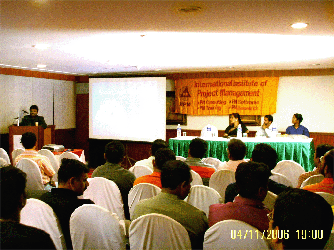 by Dr.Shalini, in her address with the scientific facts. Dr.Shalini, in her address excellently brought-out the advantages of employing women in project management with the help of the structure of the male and female brains. Among the advantages she cited in favor women were better organizational skills, consistent performance, holistic thinking, to name a few. She also touched upon the disadvantages the women posses as managers. According to Dr.Shalini, women lack in penetrative thinking, single minded devotion and in risk taking, to name a few. However, it was interesting to note that the law of success demands 35% hard skills and 65% soft skills. The later being the forte of women, women seem to possess natural managerial skills than men through their nature endowed soft skills.

Mr.Sridharan, PMP, Analyst, World Bank and Mrs. Aarathi Parthasarathi, Asst. Vice President, ABN Amro Bank also spoke on the topic. Later, Mr.Arivazhagan had tête-à-tête with Dr. Shalini where in many myths about women in project management was broken. The participants had a nice time in learning the managerial talent and the potential women have in work place. Prizes were distributed to excellent contributors to project management community. Finally, Mr. Shiva, Admin Executive, IIPM thanked the organizers, participants for a wonderful evening.

International Project Management Day: Photos
---
Dr. Shalini, Leading Psychiatrist Speaks on "Women in Project Management" on International Project Management Day 4th Nov'06 Saturday.
IIPM takes pride in celebrating the International Project Management Day, which actually is observed on 2nd November of every year, to appreciate the increase in demand of project management professionals all over the world and to highlight the importance of Project Management culture in almost all industries to achieve success, turnaround loss making companies to profit making and to convert the Senior Managements Vision to Reality (V2R).

World wide recognition of many project managers and project teams in every industry including non-profit organizations and health-care who contribute their time, power, inventiveness, novelty, and innumerable hours to deliver products, services, facilities, and crisis and disaster recovery services in every city and the society around the world.

It is expected that this kind of celebrations will increase the realization of the value of project management within the huge business, government and social communities and encourage project management as the vehicle for transforming the business strategies into reality. This includes, but is not limited to: construction, information technology, entertainment, government, aeronautics, health care, environmental science, societal, disaster recovery, community development, and feature-of-life projects and their associated sub vendors / associations.

All PMPs, CAPMs, PMs, Project Team Members, Project Associates, Consultants, Practicing Professionals, Teachers, Educationists, Entrepreneurs, Business Owners, Finance Professionals, chartered Accountants, Quality Professionals etc are invited and expected to make this event a grand success.

ALL PARTICIPANTS WILL BE AWARDED 4 PDUs


Invitation for International Project Management Day Celebration

---
Agenda

International Project Management Day
Saturday, 4th November 2006 Venue: Hotel Quality Inn Sabari, T.Nagar.
CHIEF GUEST: Dr. Shalini, Ph.D., Psychiatrist TOPIC: WOMEN IN PROJECT MANAGEMENT
06.00 - 06.15 pm - Registration & Welcome Drink

06.15 – 06.45 pm - Welcome Address by Mr. O. Arivazhagan, PMP, CEO, IIPM

06.45 – 07.00 pm - Mr. Sridharan, PMP, Analyst, The World Bank

07.00 – 07.15 pm - Ms. Aarathi Parthasarathi, Asst. Vice-President, ABN-AMRO Bank

07.15 – 07.45 pm - Chief Guest & Special Keynote address: Dr. Shalini, Ph.D., Psychiatrist on


"Women in Project Management"



07.45 – 08.45 pm - Tête-à-tête with Dr. Shalini, Ph.D., Psychiatrist

08.45 – 08.55 pm - Prize / Awards for Significant Contributors of Project Management

08.55 – 09.00 pm - Vote of Thanks

09.00 pm - BUFFET DINNER


There will be invited speakers from leading Institutions followed by a tête-à-tête with Dr. Shalini on the unique skills women posses vis-à-vis men in managing projects.

You can also find answers to many long-pending questions like
Who is a better manager: Men or Women?
Why many women do not take up project management profession?
Is there really any such glass ceiling for women in climbing the corporate ladder?
Has God endowed women with some natural talents that men have
been deprived of? And many more …...
PDUs Awarded: 4 PDUs
Entry Fee: Rs. 450 /- for IIPM patrons / PMI Chennai Chapter members
Rs. 750 /- for Others
All Presenters / Panelists/ Awardees entry will be FREE.

Group discounts of 10 – 15% on the above fee for group size of 3 -5 persons.
The fee can be paid by cash or cheque or at the venue. You can register by phone or Online or Just walk-in for spot registration. Register Now
Venue: Hotel Quality Inn Sabari,
29, Thirumalai Pillai Road,
T. Nagar, Chennai-17.
Please inform Ms. Suba or Mr. Shiva for seat reservation as only limited seats are available.

RSVP: Ms. Suba - 044- 42071124, 98417 15490 / Mr. Siva - 98844 33487
E-mail: marketing@iipmchennai.com

All are Welcome.
Professional Development Day: Lessons Learned - Earn 7 PDUs - 06 Aug'06 (Sun)

Professional Development Day: Lessons Learned + IIPM Alumni Meet: Article and Photos


International Institute of Project Management (IIPM) organized a Professional Development Day and 2nd IIPM Alumni dinner meet for the Project Management Professionals in IT/ITES, Construction & Manufacturing Industry on 6th August 2006 at Hotel Quality Inn Sabari, T.Nagar. The conference started with Mr. Shiva, Admin Executive welcoming the gathering.

An International Project Management expert and a Certified Project Manager from PMI, USA, Mr. O. Arivazhagan, CEO, IIPM started-off the panel discussion with an inaugural address on current trends in Human Resources Management. He emphasized the need to "Create talent" from within the organization rather than "Recruiting talent" so as to mitigate the risk of frequent resource attrition. He also called-upon the Project Managers to be a "Learning Person" always in order to stay focused in the highly competitive market. There were 10 PMI globally certified Project Management Professionals as speakers from IT and Construction industries. Among the panelists was Ms. Kavitha Suresh Kumar, Information Officer, World Bank. Panelists shared their comments / observations on the speakers' presentations with the participants on the topic "The Lessons Learned"- Brainstorming of New PMBOK Guide: 3rd Edition, PMI, USA.


The Panelists were

Mr. Rajagopalan Nikesh Anand, PMP, PM, HCLTechnologies

Ms. Sudha Sundararaman, PMP, PM, Hexaware Technologies

Mr. Siva Sundaram, PMP PM, Sella Synergy SA

Ms. Kavitha Suresh Kumar , Information Officer, The World Bank

More Photos
The Speakers were

Mr. Udaya Baskar, PMP, PM, Satyam

Mr. Vijay Ramachandran, PMP, Consultant

Mr. Sai Prasad, Senior Associate, PMP, Cognizant Technology Solutions

Mr. Venkatesh, PMP, Project Manager, iFlex Solutions

Mrs. Mallika Subramonian, PMP, PM, Scope International

Mr. Ramesh, PMP, Project Manager, Cognizant Technology Solutions

Mr. K. Ravichandran, CEO, Ind US Tech

Mr. Mathu Venkat, PMP, PM, Firestream

Mr. Ramakrishna, Management Consultant

Mr. O. Arivazhagan, PMP, CEO, IIPM

On the same evening, the IIPM Alumni dinner meet started-off with a presentation by Mr Ramanan Jeganathan PMP, PM, iFlex on "Critical Chain Project Management".

Interestingly, a short film titled "NODIGALIL", produced by International Dream Merchants (IDM), a unit of IIPM, implementing Project Management Methodologies & Principles and to create social awareness among school students was screened to the guests. In the end, awards were distributed by Mr. O. Arivazhagan to nearly 40 "excellent performers" who had scored more than 80% in the PMP® exam, considered to be one of the toughest exams in the world for managers. With the vote of thanks given by Mr. Shiva, the event ended pleasantly.


IIPM Alumni Meet


The International Institute of Project Management (IIPM), one of the globally registered education providers of the Project Management Institute, PMI, USA, celebrated its first alumni meet October 23 in Chennai. It was a time to congratulate and recognise the successful completion of Project Management Professional (PMP®) certification of its patrons and to thank family members and kids for their contribution in making the candidates pass the exam, considered to be one of the most difficult management certifications in the world.

Today, PMP® certification is the hottest certificate for project managers in any industry, in general, and IT industry, in particular.



Panelists from various domains discussed the relevance of 'Just in Time (JIT) in Software Industry'. They also had an interactive session with the participants. The panelists included O Arivazhagan, CEO, IIPM, who started off the panel discussion with an introduction to JIT in the software industry. He explained the inventory, considered a liability in JIT methodology, with the help of a water tank analogy. The other experts were Sridharan, World Bank, Dr Thirugnanam, VP, IAG, Polaris Software, Sudha, sernior consultant, Hexaware Ltd, and Jawahar, assistant project director, American Insurance General.

Later, the kids and spouses of PMPs took part in the PM-Word coining game in which they had to coin a word relevant to project management with the help of PMPs. Three winners were awarded prizes.

IIPM also announced three best paper awards for papers on project management from IT/software, construction, entertainment and manufacturing industry professionals. Siva, administrative executive, explained the criteria for submitting papers and requested professionals.


IIPM Alumni Meet - Pictures Gallery

Welcome Address by Mrs. Suba Hari. Mr. Ari, CEO of IIPM
Presenting on Just In Time (JIT).

JIT in Software Industry: Panelists. Dr. Thirugnanam,
PMP, VP, Polaris.

Mr. Jawahar, PMP, Mr. Sridharan, Manager, Ms. Sudha, PMP,
Asst. Proj. Director, AIG. World Bank. Sr. Consultant, Hexaware.


Mr. Ramesh Srinivasan, PMP, Mr. Ari's conclusive Speech Mr. Siva Announcing
PM, Hexaware LTD. on JIT IIPM's Contest for
"Best Paper Award"


A View of Participants Panelist Answering
Participants Questions.

Mr. Ari presenting the shield to Mrs. Ari presenting the shield to
Dr. Thirugnanam. Mr. Sridharan

Mr. Abdul Majeeth presenting Group Picture.
the shield to Mr. Ramesh Srinivasan.

Professional Development Day: Lessons Learned + IIPM Alumni Meet: Photos

---


Professional Development Day: Lessons Learned - Earn 7 PDUs (06 Aug'06-Sun)

List of Awardees Professional Development Day: Agenda IIPM Alumni Dinner Invitation

IIPM has organized a 1- day Lessons Learned session on the New PMBOK-3rd Edition.
In this session, IIPM faculty and industry experienced PMPs will make presentation on all 9 knowledge areas and the professional and social responsibility domain.
The faculty will present the new changes/process in the New PMBOK-3rd Edition in addition to discussing the new PMP® exam pattern, eligibility criteria and new exam question distribution with your few valuable tips.
Session material, lunch, tea/snacks is included in the course fee.
All PMPs will earn 7 PDUs as part of this session.
Non-PMPs and PMPs experienced and those who are willing to take the exam based on new PMBOK-3rd Edition will earn 7-contact hours of PM education.
Only limited seats available and maximum participants will be limited to 40 to 50. Please, register as soon as possible.

Course Name: Brainstorming of New PMBOK2004 - Lessons Learned
REP Course ID:

IIPM05


PDUs Offered:

7 PDUs


Category:

3

Course Duration:
1 day - 9.0 am to 6.0 pm

Course fee :

Fee can be paid by DD or Check drawn on "IIPM Chennai".

Course fee includes Course Materials, Lunch, Tea/snacks and 7 PDU certificate.

Date :
06 Aug (Sun) 2006.

Venue :
Hotel Quality Inn Sabari, T.Nagar, Chennai-17.

Group Discounts:

10-15 % discount is offered for group size of 5 and above.


All are Welcome.

---

The following IIPM Alumni have scored more than 80% in the PMP® Exam.

The Awardees are,

Abdul Majeeth, PMP

Ambrose Xavier, PMP

Arinandan Paul, PMP

Bhalatha Rani Sudhir, PMP

Bhuvaneshwari, PMP

Dwarakanarthan, PMP

Elangovan Selvaraj, PMP

Gopinath Sankaran, PMP

Gunasundaram, PMP

Mangayarkarasi, PMP

Manish Kanna, PMP

Nageswara Rao, PMP

Nikesh Anand Rajagopalan, PMP

N. S. Rajagopalan, PMP

Prakash Pande, PMP

Punitha Sadasivam, PMP

Ramesh Sajja, PMP

Remo Patric, PMP

Sai Prasad, PMP

Satish, PMP

Satyanarahyana, CAPM

Senthilvel Chinnakaruppan, PMP

Shajan Leela, PMP

Shylendar Babu, PMP

Sivakumar, PMP

Siva Shankar, PMP

Sivasundaram, PMP

Souvik Nanda, PMP

Subramanian Hariharan, PMP

Sudha Sundararaman, PMP

Sunny Paul, PMP

T. Sankaranarayanan, PMP

Venkata Satish Namburi, PMP

Venkatesh Viswanathan, PMP

Venkatnathan, PMP

---

Click to view the 1st Brainstorming Session successfully held on 18th Sep 2005 New PMBOK-3rd Edition ,

Pictures Download Video Clip1 Download Video Clip2

Research Program Summary - "Needs & Challenges of Asia-Pacific PMs"
- PMI Bangkok Congress - Research Working Session.

Click here, to see Presentation of the summary of the
Needs Identification Workshop-PPT

List of PMI Research Programme Working Session Panelists who participated in the Needs & Challenges of Asia-Pacific PMs - PMI Bangkok Congress,

Michael Schweitzer PMP, General Manager, Relacom Ltd., Bangkok, Thailand

Ondiappan Arivazhagan PMP, CEO, International Inst. of Project Management, Chennai, India

Barry Pai-Len Hsiung PhD, PMP, Project Solutions Intl. Group, Taipei, Taiwan

Kevin Chui MBA, PMP, Director, Knowledge Century, Hong Kong

Shi Qian PhD, Assoc. Prof., Tongji University, P.R. China

Pasit Lorterapong PhD, Asst. Prof., King Mongkut's University of Technology Thonburi, Bangkok, Thailand

1st Brainstorming of New PMBOK-3rd Edition

IIPM has successfully completed the Brainstorming session of New PMBOK - 3rd Edition.

Mr. Ari & Venkatesh in an intensive interaction. PMPs Interactive Chat

Mr.Ari Clearing a doubt along with Mr. Gunasundaram for HR Management
Mr. Lakshmi Veragan.

MR.Ari explaining a change in PMBOK Mr.Venkatesh for Procurement Management

The lunch break Mr.Satyen Kulkarni for Scope&Time Management

Mr . Ari Presenting certificates for 7 PDUs to Participants
PMI Global Congress 2005 - Asia Pacific: Photos & Clips

Download PMI Global Congress 2005 - Asia Pacific Video Clips: Clip1 Clip2

IIPM CEO wins Lottery at PMI Global Congress Asia - Pacific 2005

The CEO of IIPM, Mr. O. Arivazhagan, has won a lottery conducted in the PMI Global Congress Asia-Pacific 2005 held at Singapore.

He was awarded with books worth US $1,000. The list of books and photographs are displayed below. The books are kept at the library of IIPM, and are available for reference for the PM Community in India, IIPM's patrons, IIPM's course participants and PMI Chapter members.

List of Books:

| | | |
| --- | --- | --- |
| Sl# | Title | Author |
| 1. | A Guide to the Project Management Body of Knowledge (PMBOK Guide), Third Edition | Project Management Institute (PMI) |

2.
Q & A's for the PMBOK Guide Third Edition
Frank T. Anbari, Ph. D., PMP.
3.
Power & Politics in Project Management
Jeffrey k. Pinto
4.
Organizational Project Management Maturity Model (OPM3) Overview
Project Management Institute Inc., Newton Square, Pennsylvania, USA.
5.
Q & A's for the PMBOK Guide 2000 Edition
Project Management Institute
6.
Leadership Skills for Project Managers
Jeffrey K. Pinto,
Jeffrey K. Trailer
7.
The Human Aspects of Project Management
ORGANIZING PROJECTS FOR SUCCESS - Volume I
Vijay K. Verma
8.
Project Management for the Technical Professional
Michael Singer Dobson
9.
The Juggler's Guide to Managing Multiple Projects
Michael S. Dobson
10.
Practice Standard for Work Breakdown Structures
Project Management Institute, USA
11.
Project & Program Risk Management - A Guide to Managing Project Risks and Opportunities
R. Max Wideman Fellow, PMI, USA
12.
A Guide to the Project Management Body of Knowledge - Third Edition
Project Management Institute, USA
13.
The Enter Prize Organization - Organizing Software Projects for Accountability & Success
Neal Whitten
14.
PETRELTM Workflow Tools Introduction Course - V 2004 Preprint
Schlumberger Information Solutions
15.
Risk and Decision Analysis in Projects
John Schuyler
16.
Tools and Tips for Today's Project Manager
Ralph L. Kliem
Irwin S. Ludin
17.
People in Projects
Project Management Institute, USA
18.
Project Management for Managers
Mihaly Gorog
Nigel J Smith
19.
Quantifying the Value of Project Management
William Ibbs, Ph. D.
20.
Selling Project Management to Senior Executives - Framing the Moves that Matter
Janice Thomas Ph. D.
Connie L. Delisle, Ph. D
Kam Jugdev
21.
Project Management Professional (PMP®), Role Delineation Study
Project Management Institute, USA
22.
Project Management Competency Development Framework
Project Management Institute, USA
23.
Government Extension to the Project Management Body of Knowledge
Project Management Institute, USA
24.
Organizational Project Management Maturity Model (OPM3) Knowledge Foundation
Project Management Institute, USA
25.
Quality Management for Projects & Programs
Lewis R. Ireland
26.
Principles of Project Management
John R. Adams
27.
Project Management Handbook
Jeffrey K. Pinto
28.
Earned Value Project Management - Second Edition
Quentin W. Fleming
Joel M. Koppelman
29.
Achieving the Promise of Information Technology
Ralph B. Sackman
30.
Project Leadership from Theory to Practice
Jeffrey K. Pinto
Peg Thoms
Jeffrey Trailer
Todd Palmer
Michele Govekar
31.
Teaming for Quality - The Right Way for the Right Reasons
H. David Shuster
32.
Successful Information Implementation - The Human Side - Second Edition
Jeffrey K. Pinto
Ido Millet
33.
PM 101 According tot the Olde Curmudgeon
Francis M
Webster Jr.
34.
The Human Aspects of Project Management - Managing the Project Team - Volume Three
Vijay K. Verma