Professional Development Day: Lessons Learned - Earn 7 PDUs - 06 Aug'06 (Sun)
Professional Development Day: Lessons Learned + IIPM Alumni Meet: Article and Photos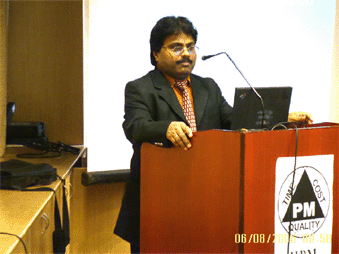 International Institute of Project Management (IIPM) organized a Professional Development Day and 2nd IIPM Alumni dinner meet for the Project Management Professionals in IT/ITES, Construction & Manufacturing Industry on 6th August 2006 at Hotel Quality Inn Sabari, T.Nagar. The conference started with Mr. Shiva, Admin Executive welcoming the gathering.
An International Project Management expert and a Certified Project Manager from PMI®, USA, Mr. O. Arivazhagan, CEO, IIPM started-off the panel discussion with an inaugural address on current trends in Human Resources Management. He emphasized the need to "Create talent" from within the organization rather than "Recruiting talent" so as to mitigate the risk of frequent resource attrition. He also called-upon the Project Managers to be a "Learning Person" always in order to stay focused in the highly competitive market. There were 10 PMI® globally certified Project Management Professionals as speakers from IT and Construction industries. Among the panelists was Ms. Kavitha Suresh Kumar, Information Officer, World Bank. Panelists shared their comments / observations on the speakers' presentations with the participants on the topic "The Lessons Learned"- Brainstorming of New PMBOK® Guide: 3rd Edition, PMI®, USA.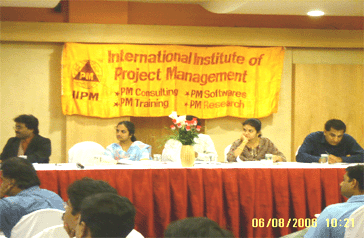 The Panelists were
Mr. Rajagopalan Nikesh Anand, PMP, PM, HCLTechnologies

Ms. Sudha Sundararaman, PMP, PM, Hexaware Technologies

Mr. Siva Sundaram, PMP PM, Sella Synergy SA

Ms. Kavitha Suresh Kumar , Information Officer, The World Bank
More Photos
The Speakers were
Mr. Udaya Baskar, PMP, PM, Satyam

Mr. Vijay Ramachandran, PMP, Consultant

Mr. Sai Prasad, Senior Associate, PMP, Cognizant Technology Solutions

Mr. Venkatesh, PMP, Project Manager, iFlex Solutions

Mrs. Mallika Subramonian, PMP, PM, Scope International

Mr. Ramesh, PMP, Project Manager, Cognizant Technology Solutions

Mr. K. Ravichandran, CEO, Ind US Tech

Mr. Mathu Venkat, PMP, PM, Firestream

Mr. Ramakrishna, Management Consultant

Mr. O. Arivazhagan, PMP, CEO, IIPM
On the same evening, the IIPM Alumni dinner meet started-off with a presentation by Mr Ramanan Jeganathan PMP, PM, iFlex on "Critical Chain Project Management".

Interestingly, a short film titled "NODIGALIL", produced by International Dream Merchants (IDM), a unit of IIPM, implementing Project Management Methodologies & Principles and to create social awareness among school students was screened to the guests. In the end, awards were distributed by Mr. O. Arivazhagan to nearly 40 "excellent performers" who had scored more than 80% in the PMP® exam, considered to be one of the toughest exams in the world for managers. With the vote of thanks given by Mr. Shiva, the event ended pleasantly.

Professional Development Day: Lessons Learned + IIPM Alumni Meet: Photos
---

Professional Development Day: Lessons Learned - Earn 7 PDUs (06 Aug'06-Sun)
List of Awardees Professional Development Day: Agenda IIPM Alumni Dinner Invitation
IIPM has organized a 1- day Lessons Learned session on the New PMBOK® Guide-3rd Edition.
In this session, IIPM faculty and industry experienced PMPs will make presentation on all 9 knowledge areas and the professional and social responsibility domain.
The faculty will present the new changes/process in the New PMBOK® Guide-3rd Edition in addition to discussing the new PMP® exam pattern, eligibility criteria and new exam question distribution with your few valuable tips.
Session material, lunch, tea/snacks is included in the course fee.
All PMPs will earn 7 PDUs as part of this session.
Non-PMPs and PMPs experienced and those who are willing to take the exam based on new PMBOK® Guide-3rd Edition will earn 7-contact hours of PM education.
Only limited seats available and maximum participants will be limited to 40 to 50. Please, register as soon as possible.
Course Name: Brainstorming of New PMBOK® Guide 2004 - Lessons Learned
REP Course ID:
IIPM05

PDUs Offered:
7 PDUs

Category:
3
Course Duration:
1 day - 9.0 am to 6.0 pm
Course fee :
Fee can be paid by DD or Check drawn on "IIPM Chennai".
Course fee includes Course Materials, Lunch, Tea/snacks and 7 PDU certificate.
Date :
06 Aug (Sun) 2006.
Venue :
Hotel Quality Inn Sabari, T.Nagar, Chennai-17.
Group Discounts:

10-15 % discount is offered for group size of 5 and above.

All are Welcome.

---
The following IIPM Alumni have scored more than 80% in the PMP® Exam.
The Awardees are,
Abdul Majeeth, PMP

Ambrose Xavier, PMP

Arinandan Paul, PMP

Bhalatha Rani Sudhir, PMP

Bhuvaneshwari, PMP

Dwarakanarthan, PMP

Elangovan Selvaraj, PMP

Gopinath Sankaran, PMP

Gunasundaram, PMP

Mangayarkarasi, PMP

Manish Kanna, PMP

Nageswara Rao, PMP

Nikesh Anand Rajagopalan, PMP

N. S. Rajagopalan, PMP

Prakash Pande, PMP

Punitha Sadasivam, PMP

Ramesh Sajja, PMP

Remo Patric, PMP

Sai Prasad, PMP

Satish, PMP

Satyanarahyana, CAPM

Senthilvel Chinnakaruppan, PMP

Shajan Leela, PMP

Shylendar Babu, PMP

Sivakumar, PMP

Siva Shankar, PMP

Sivasundaram, PMP

Souvik Nanda, PMP

Subramanian Hariharan, PMP

Sudha Sundararaman, PMP

Sunny Paul, PMP

T. Sankaranarayanan, PMP

Venkata Satish Namburi, PMP

Venkatesh Viswanathan, PMP

Venkatnathan, PMP
---
Click to view the 1st Brainstorming Session successfully held on 18th Sep 2005 New PMBOK® Guide-3rd Edition ,
Pictures Download Video Clip1 Download Video Clip2