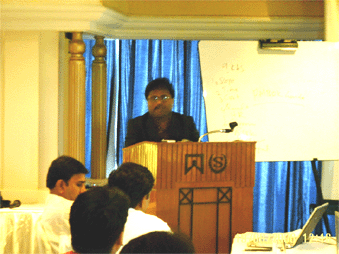 Mr. O. Arivazhagan, B.E (Honors), PMP, SSGB, CEO of IIPM, was invited to lecture on ERP/SAP Implementation Project Management by Seal Infotech Pvt Ltd, a unit of SAP India and a leading IT Company at Chennai on 19th August at Hotel Chola Sheraton, Chennai.

In his lecture, Mr. Ari addressed the following issues in connection with Implementation of ERP/SAP Implementation Projects Management.

How to capture Scope when both the customer and the vendor are not clear about the requirements of the Project so as to keep the scope creep minimum.

He emphasized the need for the project managers to be "assertive" when facing uncontrolled and unjustifiable change requests from the client. The need for involving and getting the consensus of all key stakeholders of the project in order to minimize fire-fighting later in the SWDLC was a key input to the participants.

He also gave tips about "to include or not to include" requirements gathering as one of the phases of the software development life cycle (SWDLC) depending on whether a phased-implementation or big-bang approach is used. He took the help of Parkinson's Law when he answered one of the participant's query regarding padding of schedule estimates and ways to control schedule slippages.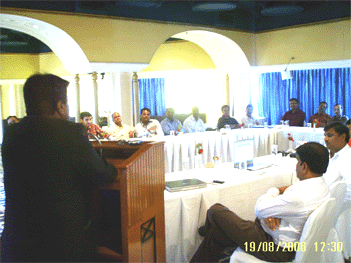 To yet an another query from one of the participants about schedule and cost risks, Mr. Ari suggested to have Contingency Reserve (CR) and Management Reserve (MR) to help the Project Manager and the senior Management in times of need during project execution.

Then the interest turned towards the Quality aspects of ERP/SAP implementation projects. The participants were curious to note the fact that any ERP implementation project for a company which is not having its process matured at least at 3 Sigma level may not produce the desired result and hence he suggested looking in to the process improvement first before embarking on ERP Projects. Regarding a question related to Critical Success Factors (CSF),
Mr. Ari emphasized the need to be aware of the personality types of the Project Management Team (viz extroverts, introverts etc.) in order to ensure job satisfaction by deploying the right people for the right job.

Answering a question related to estimate of Contingency Reserves, Mr. Ari briefly explained about the Risk Management Techniques using Quantitative and Qualitative methods as explained in PMBOK Guide of PMI USA.

Finally, the lecture concluded with an emphasize on the need to integrate all the modules and have Contingency Plans / Fall back Plan before going live when big-bang approach is practiced in ERP/SAP implementation projects.