Mr. O. Arivazhagan, B.E (Honors), PMP, PMI-SP, PMI-RMP, MBB, CFM (HFI, USA) CEO, IIPM, was invited as Chief Guest for the launch programme of The Hindu Newspaper in Education (NIE) in K.C.Sankaralinga Nadar Higher Secondary School in Chennai on 3rd August, 2011.

The Newspaper in Education Programme (NIE) aims at teaching school children to read the newspaper and make reading an enjoyable experience.

While addressing the students, Mr. Ari highlighted the role that newspapers played in his life. He suggested compulsory reading of newspaper everyday as it would expose the students to several global issues. He added that, reading the newspaper would enhance the thinking abilities and also generate a creative and analytical mind in students. During the interaction with the students, he posed questions on various subjects and spot prizes were distributed to the students. The students responded enthusiastically. It was a fun-filled programme.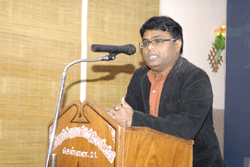 See More Pictures...